Pick-up at hatchery – When you order directly from Frey's Hatchery, we will give you a time and date for pick-up.
1. Call the order to Frey's Hatchery if you want to pick up the birds at the hatchery.
2. For pickup orders under $100, full payment is required in advance. For orders over $100, we require a down payment of $100 or 50% of the total, whichever is greater.
ALL ORDERS MUST BE PLACED IN ADVANCE
DAY OLD CHICKS: can be picked up at the hatchery on Tuesday (day of the hatch) from 11:00 am. to 6:00 p.m. or on Wednesday morning (if prearranged). You must let us know what day you will be picking up.
READY-TO-LAY: can be picked up on Mondays from 8:00 a.m. to 4:00 p.m.
In cases where the order has both day old and Ready-to-Lay, pick-up is Tuesdays 1:00-4:00 p.m.
You need to bring your own containers for ready-to-lay pullets.
Box Sizes and Quantities
We have 3 standard box sizes and 1 mini box for 10 chicks or less. The standard boxes are divided into corners or sections as follows:
• Large (4 sections)
• Medium (2 sections)
• Small (1 section)
• Mini (10 chicks)
Each section can hold 25 chicks or 20 turkeys or 30 pheasants or 14 ducks.
If the weather should get too hot we reduce the chicks per corner to 20.
These are the optimal amounts to keep the chicks comfortable in transit.
For prices of birds, consult the current price list available from your feed store or pick-up pricing from Frey's Hatchery.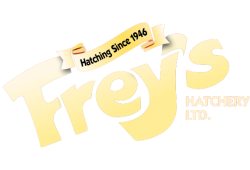 80 Northside Dr, St. Jacobs, ON N0B 2N0