If you lack the facilities to raise chicks from day old, or simply want the security or convenience of starting with older birds, we offer layer breeds of chickens as started birds.
Please see the Price List for minimum orders per breed and age. These Price Lists are available at any of our Dealers or from the Hatchery.
The Red Sex-Link is the best layer and the one most grown for ready to lay pullets. She will produce the most eggs for the least amount of feed. They are well suited for small farmers or hobbyists who allow the pullets/hens to free range.
For customers who are not concerned with maximum egg production and would like a colourful variety of breeds for your small flock, we other options to choose from.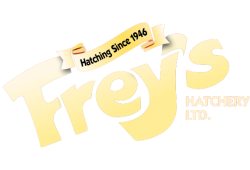 80 Northside Dr, St. Jacobs, ON N0B 2N0